Bike handlebar bags are not commonly thought of as "must have" paraphernalia for your cycling needs. However, I'd like to challenge this, as ever since I got my first handlebar bag, I have never been able to get on 2 wheels without one.
As more and more people embrace the culture of bikepacking, as well as taking their bikes out on the trails or for longer city rides on weekends as an active pastime, it's become a must have item to carry all your gear out and about with your bike.
So, if you're looking for the best handlebar bag for your bike this year, 2021, well don't worry. After much research, I've put together a comprehensive review of the 15 bags on the market for you to choose from, and tried to match up what works well for what needs you might have. I will focus specifically on the best one to go with for your commute.
Now I want to take a deeper dive looking at each bag individually, some benefits and some negatives of each one.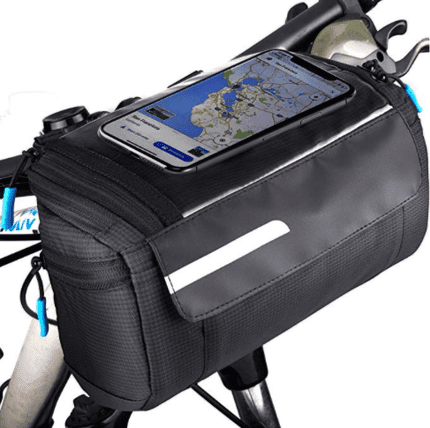 Pros:
It was a good price point, not too expensive, not too cheap.

When it arrived it came with a nice a rain cover & a detachable shoulder strap.

As it's made from 400d "ripstop' nylon and a PVC layer, it's pretty much water proof .

New model comes with a waterproof zipper (we got a sneak peak at them) and this means that you can ride in torrential storms, with no fear.

The bag is padded with PE meaning it retains its shape.

The top pocket for cell phones fits almost every shape and size phone, including with a case on (though not too thick) and its touch screen, perfect for commuting.

I would describe its size as not too large, and not too small. You can fit a good amount of items inside without overfilling and having a bag that's too bulky. Also comes with a strap so it can be turned into a cross body shoulder bag if needed.
Cons: Not as big as other bags that are designed specifically for bikepacking, but we took it on the trail and it still worked quite well.
Verdict: great bag for bikepacking or general use, but especially for commuting, this bag is great. This is a true goldilocks bag. Fits a lot, but not too heavy. Water proof, but not to thick. Great price, not cheap but not expensive.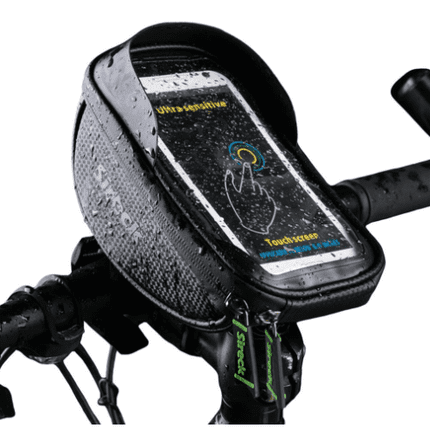 Pros:
This bike bag is super easy to install.

The zipper closure is very tight, aiding in the water resistance.

There's a reasonable amount of room inside for keys, and a wallet.

We fit a Samsung J7 Star (with a case on it).

The touch screen worked through this plastic, in most cases.
Cons:
The plastic is quite loose and there is a lot of glare so it's hard to see the screen, especially in sunlight.

I couldn't really get it to sit upright, it kept slipping down a little.

The velcro straps used to install seem like a poor choice to me.

The straps are really long and since the stem of my bike is just bars, there is not a lot of room for connection once you wrap them around.

I'm glad there are 3 straps otherwise I would worry about them coming unattached.

The storage is not the best, once you have a small wallet in plus a small set of keys, you really can't fit much else.
Verdict: Not bad if the whole and sole use is for the phone holder. However, if the sun shines directly on it, you won't be able to see your phone screen.
Rhinowalk Bike Handlebar Bag
Pros:
Quick to install, and reasonable storage.

Not massive, but not bad. Side pocket for a small bottle or something similar.

Plastic screen for the phone compartment is pretty responsive, and the design is quite nice and sleek, coming in all black or black with a yellow strip.
Cons:
It has no back or bottom support to keep the bag straight up, it simply hangs off the handlebar and the top part of the bag ends up facing forward – particular for bikes with no stems.

Has been advertised as detachable and wearable as a shoulder bag, however, when I attempted this it was not very convenient or quick or easy.

There's no support inside the bag, so it will sag and the heavier the items you place inside, the less shape it keeps.
Verdict: Not the worst bag in the world, but we feel like they sacrificed true functionality for it's appearance.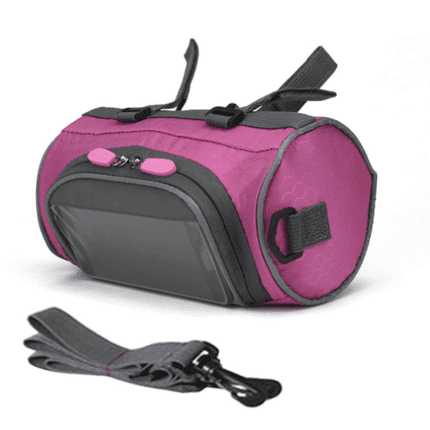 Pros:
Nice compact design makes it an easy fit, not too heavy, and easy to take off and put around your shoulders if needed.

Comes in different colours and is well priced, meaning you can pick the colour to suit your needs, which is a nice flexibility.
Cons:
Overuse can pull the straps away from the bag.

The phone pocket is very small and tight, meaning you need a smaller phone to fit, it's also not fully waterproof as we took it out in rain and condensation droplets were forming within minutes. -The internal padding is not fully attached to the inside of the bag too, which made for some coins getting lost!

Verdict: A very good, cheap, small bag. Probably best suited for kids on their bikes.
Add Your Heading Text Here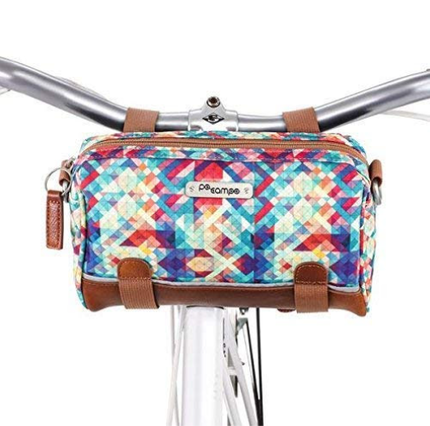 Pros:
Comes in 3 different styles and is quite fashionable if this style is for you.

Definitely marketed at women, with both the style and the charity aspect, as they buy a bike for a school girl in Africa after every 50 bags sold.

Good size with a reasonable amount of storage, and truly seems mixed use as a purse and bike handlebar bag alike.

The bag is also made from vegan or non-animal based products completely.
Cons:
Definitely at the upper end of the bike handlebar bag price point.

Unlikely to appeal to men or women who want a more sleek design, although it does come in all black.

After multiple uses the straps do begin to pull away from the stitching on the bag. The material is quite thick, making the storage space quite deceptively small.

The underside of the bag also started losing its shape on the 3rd ride, sagging a little and touching the wheels.

We also questioned the charity aspect too as it seemed a little odd to only give a bike to a schoolgirl as opposed to any school child who was in need.

Verdict: fantastic bag, good storage, good style and a good cause. Is it the most functional bag, maybe not, but it works, has good storage and looks great.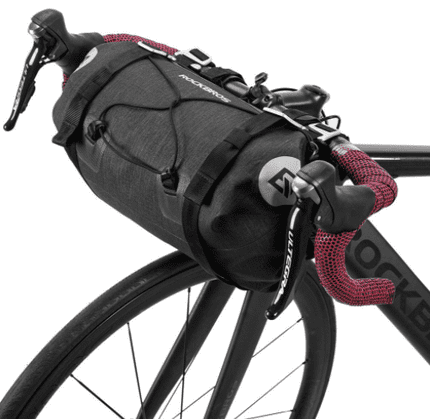 Pros:
Totally waterproof with 600D Nylon material.

We rode in very heavy rain with no issues at all.

The straps are easy to use, intuitive, and sturdy.

The bag can carry a LOT of weight, we're talking a 3-man sleeping tent plus extra space. -Really nice design as well.

Price point is higher than other bags, but good value for money when you consider how much storage you can carry with this bag.

It goes very well with another bag and is perfect for going bikepacking and camping.
Cons:
Not ideal for commuting.

You need at least 9 inches of space between the top of your front tire and top bar where you attach the main/large velcro straps.

My bike has about 8 inches, so it didn't fit well. If you have drop bars on your bike, it just won't fit no matter how many configurations you try.

It doesn't come with installation instructions which might be overwhelming for some.

It's a higher price point than most others on this guide.

Verdict: Great bikepacking bag for taking on a long weekend away. Combines great with other bags and very functional. Not suited to commuting at all and for less experienced riders it may affect their rhythm whilst riding if overfilled.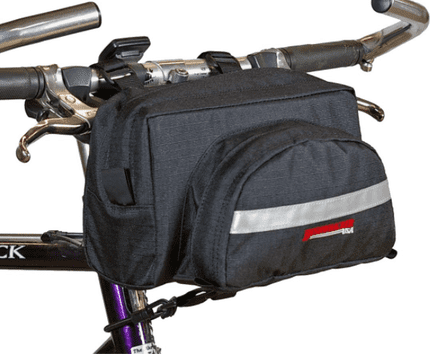 Pros:
Very well priced.

Storage space is pretty good and materials successfully kept out most of the water.

The reflective stripe adds safety and the straps help a design which would otherwise sag down on the bike.
Cons:
If you are expecting high-end touring gear, this is not it.

Although the plastic insert definitely helps the bag hold its shape, the bag itself droops.

Also, the bag is not waterproof.

The little loop at the bottom is a bit of a mystery. I guess it might stabilize the bag from back and forth movement over rough terrain.

Bike geometries are all different, of course, but on most bikes, it will pull the bag downwards and back.

The bag works well for a jacket and tools in the separate compartments.

The zippers are quite flimsy and tend to break if you pull too hard.
Verdict: Overall not the worst bag around, but not very easy to use. Very low price point but probably you get what you pay for here.
TraderPlus Bicycle Basket Bag
Pros:
Top phone pocket is large enough to fit a large smartphone, and the plastic is tight enough to allow for good vision and touch screen, although it probably works better for a paper map than a phone.

Side pockets are great for snacks or small bottles.

Reflective strip is really good and helps to be seen!
Cons:
There's no closure to the phone pocket and it feels unsecured in the position.

The velcro straps are a little on the weak side and after a handful of uses will start to fray and pull away from the bike.

It's also very small, and doesn't fit a huge amount of items inside.

The bag, like many others, tends to sag and drop down and not stay in place.
Verdict: definitely suited to commuting, and the storage is almost perfect for it. However, it's not as big internally as some other bags plus the phone pocket is open on one side.
Roswheel Handlebar Bike Bags
Pros:
Good for bikepacking and it is sturdy and has a reasonable volume capacity.

Sleek design, and great straps to both keep it in place and open/ close it when needed.

We took it out in heavy rain and everything inside was dry as a bone.

The bag has good accessibility with the side zippers and even has an expansion area to extra storage

.
Cons:
The storage is not as much as it appears as the material is quite thick.

You need to have a good amount of space between the top of your wheel and the bars, as it comes down quite low in reality.

No phone/ map pouch.

The straps are a tiny bit short so it is not as easy to install as some other bags.

Verdict: overall a decent bag for bikepacking, even if not the absolute best.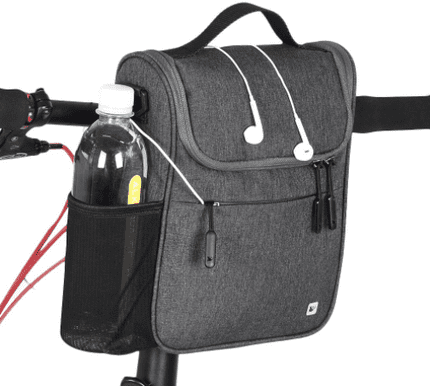 Pros:
First impressions, style wise it looks really nice.

Sleek, and good material.

Usage it's not bad either, fits a decent amount, and passed our water resistance tests.
Cons:
A prolonged use showed that the zippers are not waterproof, that the straps start to tear away from the bag a little if overfilled, and it's not convenient for using whilst riding

,

especially if you put a bottle in the side pocket as the zipper line becomes misshapen.

Because the materials used are thick, the internal space is smaller than it should be.

Once we had filled the main compartment, the front pocket became almost impossible to use.
Verdict: a good bag for commuting but overall, not suitable for rainy weather and doesn't store as much as it looks like it should.
Rockbros Bike Handlebar Bag
Pros:
When we first took it out for a ride, it was a really nice colour and style.

The material gives a really nice effect. It's made from 600D nylon so you can expect it to be virtually waterproof.

We did take it out in the rain and it indeed was waterproof.

The material got a little dirty on the outside, but was easy to clean.

6l capacity sounds large and is.
Cons:
The strap is a little weak once you start to fill up the bag, so it will droop down the bike.

The clip to open the bag is not at all convenient whilst riding the bike at all, so not recommended for quick access to snacks or bottled water.

The material is so thick, meaning you can't fit as much in as you should be able to with the capacity.
Verdict: completely waterproof and great for bikepacking. Decent style but not suited to commuting at all and be careful how much you store as the straps can weaken.
Tourbon Vintage Canvas Panniers Handlebar Bag
Pros:
Retro design is a really nice touch

Made from canvas, with an added wax layer so highly water resistant.

Fits on the bike very well with nice leather straps.
Cons:
Lined with white fabric which can get dirty very quickly.

Despite the material being water resistant, the design means it's still very easy to get wet inside as it's not watertight

When it arrived, the seller told us with a card to leave a 5 star review.
Verdict: the design looks nice, but it doesn't work out to be as watertight due to the flap not being as wide as the hole. Plus, we don't like being told what to do by the seller!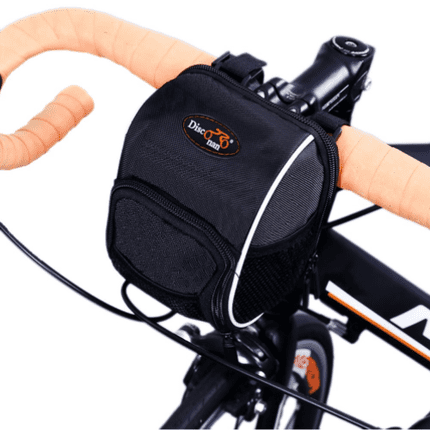 Pros:
This is a nice compact little handlebar bag, so if you're looking for essentially a glorified pouch it does the trick.

Can fit a few items like small snacks, a small wallet and house keys but not much else. It's a super low price too, so grabbing a couple of them would not be out of the question too.
Cons:
Buying 2 is probably not a bad idea, as the stitching on the straps starts to come loose if you fill the bag too heavy or use too much.

Because the bag is quite small, we had trouble fitting the straps round on different bike sizes. -Again, as a small bag, it won't fit any water bottles or much at all.

You would think this makes it good for commuting, but there's no real phone holder, and if it rains, your items will get drenched.
Verdict: probably too small to really do anything with, but good if you just wanted an extra pouch for keys and not much else.
Joystar Bike Handlebar Bag
Pros:
Comes in 3 colours and is a real style choice particularly for women.

It's another compact design that won't take much room on your bike, and means if you just want to use it like a purse, you can.

The straps are very easy to use, and the material feels like leather even though it isn't.
Cons:
Very small, so you can't fit much in there.

Not water proof or convenient for access whilst cycling.

It didn't fit on a lot of our bikes.

We had a look and the price point was not clear, and there are currently no customer reviews to speak of online, so it feels a little like we were guinea pigs!

Verdict: decent style if you like a small purse that can strap onto a bag. Price is not clear and seems to be a brand new brand with not much track record so far, so a bit of a risk.
Tips on How to Choose the Best Bike Handlebar Bag
Just in case everything above is coming across clear as mud, I wanted to give you some tips to help you to choose the right bike handlebar bag for you, as there can be a number of factors to consider. Truthfully, most of these tips come down to what is described as the "Goldilocks Principle", referring to the popular children's story about a girl who liked her porridge not too hot, not too cold, or her beds not too hard, not too soft etc.
Price Point Should Be Cheap, But Not Too Cheap
Honestly, there's no point in spending hundreds of dollars for something made with the same quality of another product at $25 or $30. However, typically anything that comes in under about $25 tends to not last very long or be fully waterproof too. There's a fine balance.
Installation Needs to Be Simple But Sturdy
Unless you want to spend hours and hours attaching it to the front of your bike, the best way to go is to find a bag that connects up very easily. Again, the flip side here is that you also don't want one that is easy to attach, and easy to come loose.
Straps Should be Long Enough to Get Round your Handlebars and Brake Cables If Needed, But Not Too Long
Obviously, you need a bag that can actually attach to your bike. Consider what type of bars you have, the placement of the front wheel and mudguard, if your braking cables protrude or not. You will want to get straps long enough to attach around them. However, if they are too long, it may be harder to secure properly or a sign of potential bag sagging or drooping in the future.
Make Sure it Has a Good Amount of Storage, But Not Too Much
Of course this is all dependent on how much you're after. But smaller bags with low storage tend to have a limited shelf life, and larger bags you either tend to have heaps of unused space, or else you overfill and you have to be careful it doesn't drop onto the top of your front wheel.
Go For a Thick Material, But Not Too Thick
Generally speaking the thicker the material the better, right? Yes, technically. However, a lot of the bags with the thickest material can tend to eat into the storage space left rendering it very "cosy". If the material is nylon, 400d is enough. For an even more secure material, you might want to consider if it is made from ripstop nylon.
Go For a Phone Pouch On Top
This isn't so that you watch Netflix whilst on the trails. It's to help you not get lost! If you get phone calls whilst in the saddle, it also makes it a lot easier and safer than reaching inside a pocket or a bag to see who it is. Even if you don't use it all the time, it's always good to have this option.
Some Bags Lose Their Shape When Stuff is Put Inside
It's a good idea to find out if the bag has an inner lining or bottom layer that helps keep the shape and form of the bag. This isn't just aesthetically nicer, but also a potential issue when riding as if a bag droops or sags it can interfere with your riding ability.
Go For Functionality Over Style
It's great to have a nice stylish bag if you want to look good, but what if it doesn't do the job you need it to? You wouldn't try to run on the treadmill in stilettos, so don't try to go bikepacking with a glorified purse!
Waterproof Or, At The Very Least, Water Resistant, Is a Must
Unless you're riding your bike in a desert, chances are at some point it could rain on you. You might be saying : "well if it rains, I won't go out" but you might not always have that choice. And you can get some near watertight bags for very, very reasonable costs.
The Longer The Return Policy Is Of The Seller, The More They Believe In Their Product
To put quite simply, it's about putting their money where their mouth is. If a company offers a long deadline for returns, then it generall is a suggestion that they are confident that their bag will live up to the scrutiny.
Look in the Reviews Section, If Cyclists Are Scoring it Well, It's a Good Bag
Cyclists are super particular about what they need, what they want, and what they use. Many spend thousands of dollars per year to get their comfort. If there's a lot of positive reviews from cyclists then take this as a really good sign that this bag does it's job.
At this point, after considering all, my personal favourite bag to use is Obova as it suits all the needs I had for a bag. It fits all I need it to fit (keys, wallet, some snacks, phone) and it is very water resistant. It worked for me on the city roads but also out on the trail too.